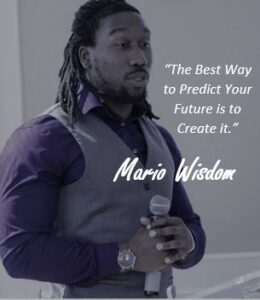 Mario Wisdom grew up in Fredericksburg, VA.
While he is a graduate and athlete of Shenandoah University,
Mario considers himself to be a continuous learner of life.
"Having been a former business owner I know and understand the challenges that many business owners face.
I have been graced with the opportunity to be a Business Development Specialist with Crystel Clear Business Strategies, to build personal relationships with everyone I meet as well as put them on the path to financial freedom.
I love the creation of new ideas that can take business owners to the next level and am always looking to influence your future in a positive way.
There's no need to walk around in the dark. That's why we're here, to make your path Crystel Clear." 
How Can Mario Have a Positive Influence On Your Future?